Holiday foods
The holiday season with its cold rainy days is the perfect time to indulge in tasty treats. Today we're sharing our favorite holiday meals from around the world.
Starting on a sweet note with France, Bûche de Noël is the most common cake to have around christmas time. It is a rolled chocolate cake that is filled with vanilla cream and shaped to look like a tree log. It is usually enjoyed between christmas eve and new years eve. Across the pond in England, Mince Pie is the food to have during the holidays. Although the name suggests that it has minced meat in it, and at some point it did, today the filling consists of dried fruits and spices.
Bibingka is a common breakfast food in the Philippines which is a disk that contains sticky rice, coconut milk and sugar and it is cooked in banana leaves. Sounds delish!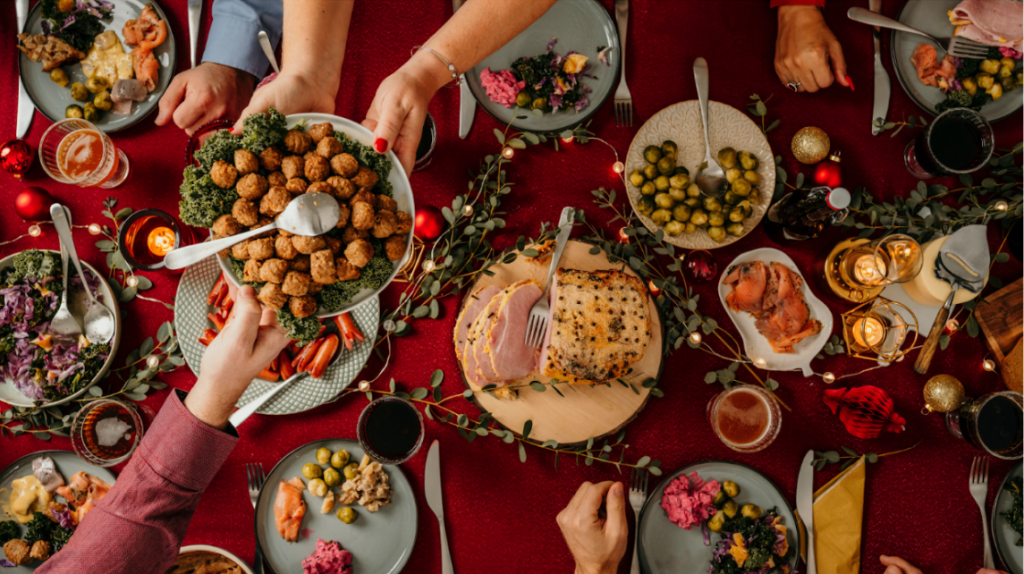 Israel is famous for its Latkes which are savory pancakes made from super simple ingredients such as potatoes and onions and then fried in oil. Another potato and onion dish is Janssons frestelse, which is a Swedish casserole. It is usually prepared as a side to accompany sausages or fish.
This one is technically not a food but it is an honorable mention. Eggnog, which is enjoyed in the US and Canada is a drink made from milk, cream, eggs (as the name suggests) and sugar. Some versions of it are made alcoholic with the addition of rum or other liqueurs.
Ending our tour in Germany, the most traditional Christmas dinner consists of a meat roast accompanied by sausage stuffing, cooked red cabbage and potato dumplings. The Dessert would include Stollen which is a sweet german christmas bread, which we cover on a different day!
---