German Nutcracker Figurines
History
If you've wandered around the Christmas markets of Germany, you have probably come across wooden figures that resemble toy soldiers. These figurines were often given away to friends and family as a symbol of good luck while keeping evil spirits at bay. Nutcrackers (or Nussknacker) have been in use in Germany since the early 15th century.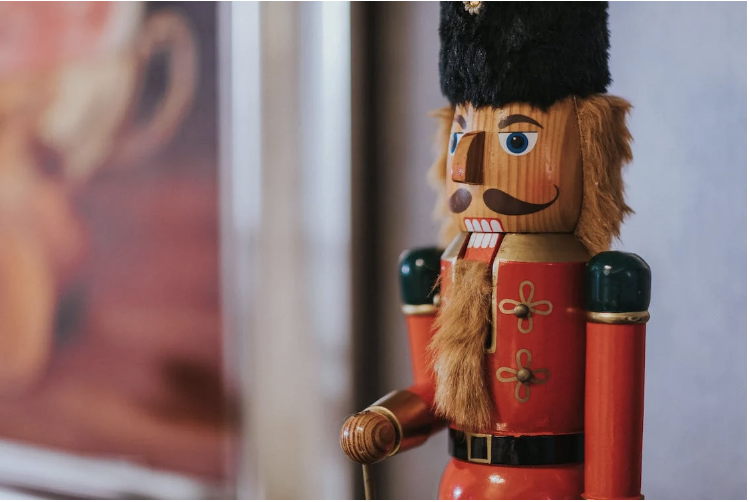 ---
In "Deutsche Mythologie," Jacob Grimm described how wooden nutcrackers were protective figures that could ward off spirits by baring their teeth. They were also considered good luck. So it is easy to see why a figural nutcracker would be so sought after. The most popular origin story for the rise in popularity of Nutcrackers in Germany is about a farmer who found it was too impractical to crack open nuts with a hammer and offered a reward if someone came up with a better idea.
The most famous Nutcrackers originate out of Sonneberg in Thuringia and the Ore Mountains (Erzgebirge). Erzgebirge was originally a mining town but as the mining industry dried out, it is said miners started using their woodworking skills to create toys and Christmas figurines sold in Christmas markets all across Germany.
Your Guide to Buying a German Nutcracker
The average nutcracker design consists of about 60-pieces but higher quality nutcrackers can often consist of over 130 pieces. Traditional nutcrackers can be found all over Germany, but especially in the Erzgebirge region. Towns like Seiffen and Annaberg-Buchholz are full of authentic nutcrackers. The Steinbach family was crucial in spreading the popularity of nutcrackers and creating "limited editions" figurines from German folklore or leaders from around the world. If you are looking to get an authentic German nutcracker doll, they are traditionally made of wood and depicting soldiers or kings. A proper high quality nutcracker should still be capable of cracking nuts! We recommend looking for hand-made nutcrackers from the Erzgebirge region when shopping around in the Christmas markets for the most authentic figurines.
---