Run 'n Dine
Our 𝗥𝘂𝗻 '𝗻 𝗗𝗶𝗻𝗲 is back! 🎉 Next Saturday the 𝟭𝟵𝘁𝗵 𝗼𝗳 𝗡𝗼𝘃𝗲𝗺𝗯𝗲𝗿 get ready to make new friends and enjoy a chill evening filled with delicious home cooked cuisines from all over the world. 🥙🍜🌭

❗The registration period ends the 𝟭𝟳𝘁𝗵 𝗼𝗳 𝗡𝗼𝘃𝗲𝗺𝗯𝗲𝗿 𝗮𝘁 𝟭𝟯:𝟬𝟬. For the registration we will use a separate software. Different than last time, 𝗯𝗼𝘁𝗵 teammates will have to register. 𝗣𝗹𝗲𝗮𝘀𝗲 𝗿𝗲𝗮𝗱 𝘁𝗵𝗲 𝘀𝗽𝗲𝗰𝗶𝗳𝗶𝗰𝗮𝘁𝗶𝗼𝗻𝘀 𝗰𝗮𝗿𝗲𝗳𝘂𝗹𝗹𝘆. You can apply here!❗

𝗧𝗶𝗺𝗲 𝘁𝗮𝗯𝗹𝗲:
18:00 Uhr: Appetizer 🥗
20:00 Uhr: Main course 🥘
22:00 Uhr: Dessert 🍦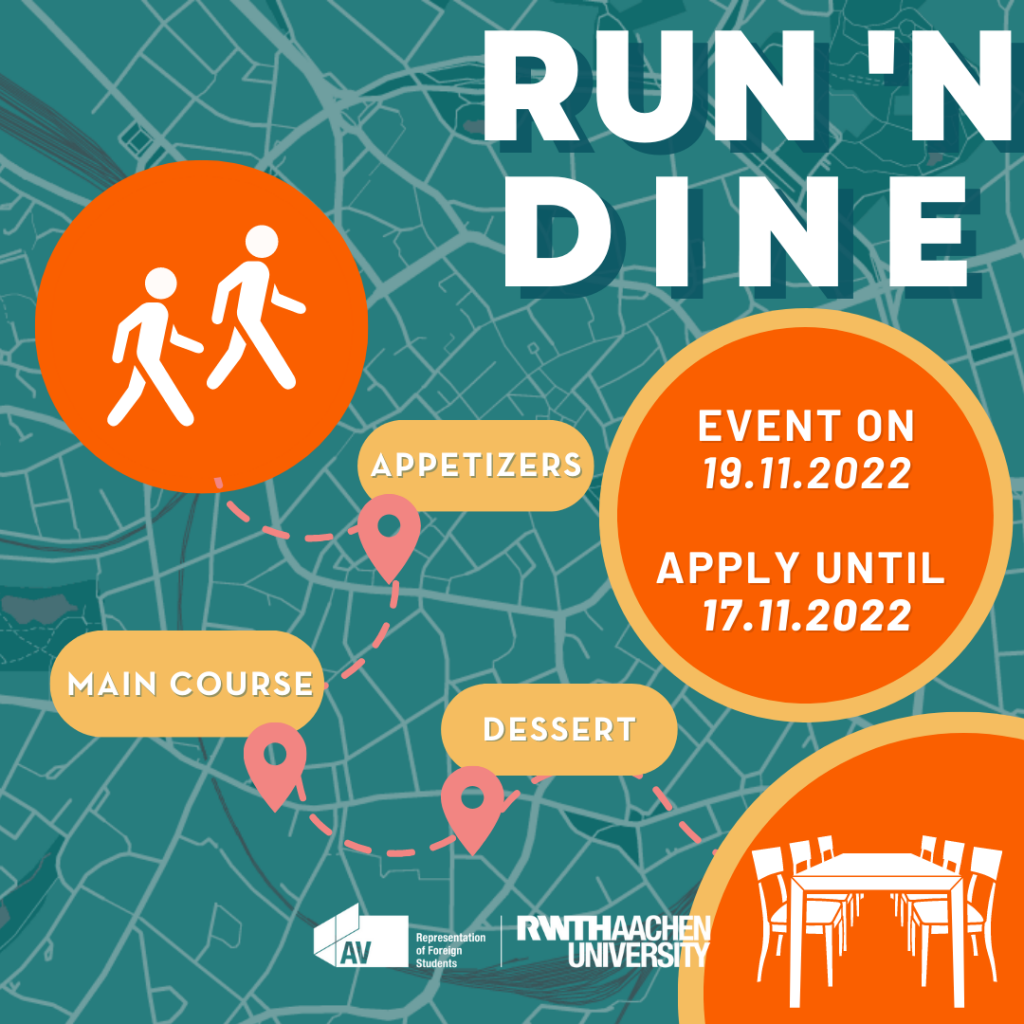 ---

𝗪𝗵𝗮𝘁 𝗶𝘀 𝗥𝘂𝗻 '𝗻 𝗗𝗶𝗻𝗲?
1) Sign up with a friend!
2) After the registration period, you will be sent a personalized dinner route, along with which course you and your friend will be cooking (either appetizer, entree, or dessert). This course will be cooked in your own kitchen.
3) Two other teams will join you, resulting in 6 people at your dining room table.
4) For example, if you and your friend are assigned the appetizer round, then you will cook and serve appetizers in your own home for 6 people including you. For the Main Course, you will go to someone else's home and be served some delicious cooking. For dessert, you will again move locations.
5) At a pre-determined time, each team will visit the home of another cooking pair. Always a different location, always new people, always delicious!
6) Getting together afterwards with your guests/hosts — strongly recommended!

🥟We encourage you to cook a dish from your home country (not mandatory, but would be nice!).