Eurovision
It's the time of the year! Eurovision! 🇺🇦 The song contest finale that brings all cultures together takes place on May 13th!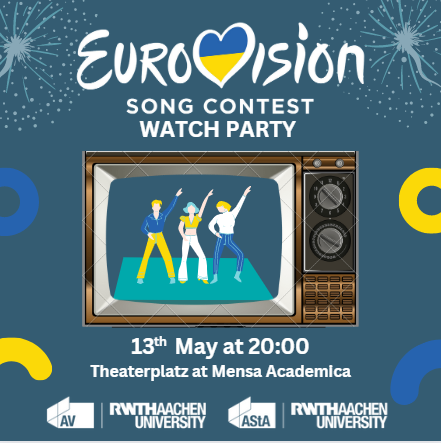 ---
And this year the AV and ASTA are organizing a Eurovision watch party of the finale where everyone can join. 💃🕺
We will have games, and fun while whatching the show, as well as a costume contest. 🧛🏻‍♂️🧛🏻‍♂️🧛🏻‍♂️ The watch party will take place in Mensa Academinca's Theatersaal (2nd Floor) at 8 p.m.
So meet up in your favorite Eurovision costume (If you want) and join us for the greatest european celebration of the year! 🎊🎉🥳🎊 The event has limited amount of places, so you can book a seat for the event here (link can also be found in the bio of the @av_rwth)