Pub Quiz
It's quiz time again, folks!! Come and test your quizdom as you face-off against other teams to win some awesome prizes.
Join us for this semester's AV Pub Quiz at Humboldt Haus on Friday the 9th of June at 19:00!🥳🥳🥳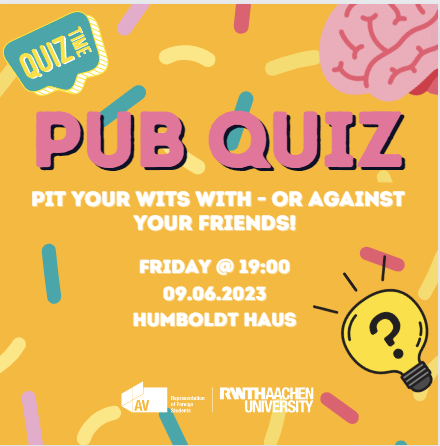 ---
During the Pub Quiz you will have to work in teams and answer questions about different topics 💡💡💡. With a brand new category this time! You can join alone and meet some cool new people or attend with your friends. You will be in groups of six. 🚪 Doors will open at 18:45. Be sure to arrive punctually to be able to take part in the activity! 🚨🚨There are only a limited number of places so please come on time. The seats will be given on a first-come, first-served basis until all slots are taken.
🛑🛑We won't allow the reservation of seats for others, so if you want to participate wwith your friends, you have to arrive and enter the Humboldt Haus together.
See you next Friday🎊🎉🎊